The owner of this Crafter has a motocross bike and wanted the garage walls protecting with chequer plate. This is a great idea because it'll also make it easier to clean after a muddy bike has been in there.
We also made a cupboard for the gas bottle with a handy shelf on top for oils or a bike helmet. We also made a shelf on top of the cupboard which houses the water pump and toilet waste. This one is perfect for 1L bottles of oil or spray cans.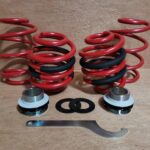 Lowering a van is an ideal way to not only make your campervan look less like a commercial van but it'll also help with ride and handling as well as help with the access high.
The lowering kit used here is an Eibach 35-40mm adjustable spring kit. This kit simply replaces the original springs on the front with a shorter spring that lowers the van between 35-40mm. The rear is the same but it has an adjustable collar [...]