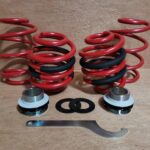 Lowering a van is an ideal way to not only make your campervan look less like a commercial van but it'll also help with ride and handling as well as help with the access high.
The lowering kit used here is an Eibach 35-40mm adjustable spring kit. This kit simply replaces the original springs on the front with a shorter spring that lowers the van between 35-40mm. The rear is the same but it has an adjustable collar which allows you [...]
We are very excited here at Sunset Campers today, our Van Shades demo board arrived.
We are really impressed with the design, quality and options Van Shades offer with their Window Pods. You can either match the Pods with the same colour carpet as your van or opt for the Window Pods Select which offers a clean non-carpeted look in various different colours. They also offer Splashbacks which provides a stylish wipe down wall for the kitchen area. The blind itself is a fully blackout thermal blind and comes in various different colours.
Below are some pictured from one of our conversions with all round Window Pods trimmed in graphite carpet with a slate blackout blind.
The option to have the all round glass look is matter of taste rather than practicality. For us at Sunset Campers we like the all round glass look even though you will never see out of it.
We use Camper Glass produces because we believe they're the best on the market and offer a wide range of options for various different camper layouts.
The option we fitted here is a total blackout fake quarter glass. This will stop any light shining through and showing the colour of your van through the glass.
They also supply a rear quarter trim which goes in between the two [...]